The New York Experience 2023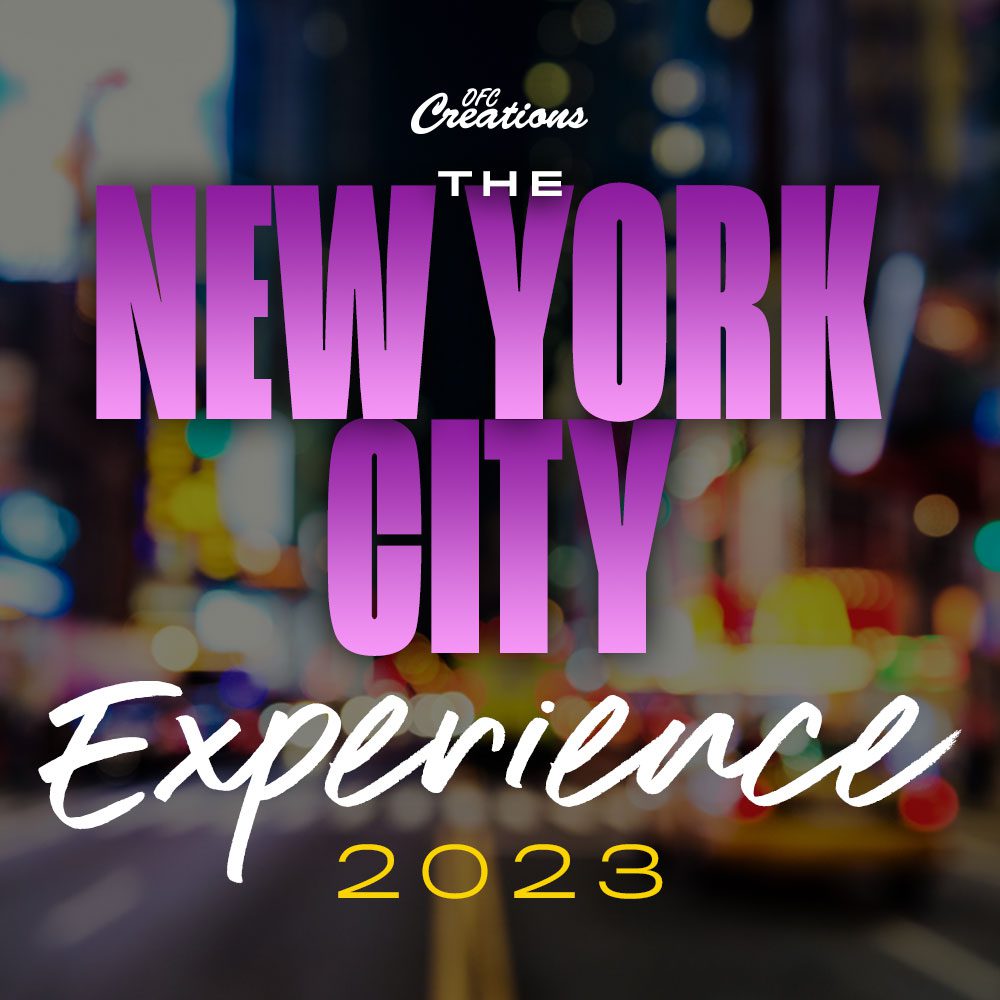 The New York Experience 2023
Start spreading the news, we're leaving in August to be part of New York, New York! Students will experience the Big Apple through attending a Broadway show, masterclass taught by Kara Lindsay (formerly Glinda on Broadway and originated Katherine in Newsies on Broadway) alongside other Broadway professionals, inside tour of the musical theatre program at NYU, visiting the Top of the Rock Observatory, taking a Harbor Lights Evening Cruise and so much more in "the city that never sleeps!"
It's true, OFC Creations is taking the show on the road to NYC as part of ROC Summer Theatre Experience 2023!
Eligibility:
Open to OFC students ages 14-19 only
To prepare for the trip, students must take part in the NYC Performers Bootcamp. Meeting four times throughout August, students will rehearse solo musical numbers and a group number to be perfected by Kara Lindsay
Students must also participate in at least one OFC summer camp in July or August 2023
Students must audition and be accepted into the program to participate (see info on auditions below)
Timeline:
Auditions in early March 2023 (see info on auditions below)
NYC Performers Bootcamp will rehearse August 15, 17, 22, 24 from 6PM-8:30PM.
Parent information meetings will be held in conjunction with the rehearsals
Anticipated travel dates: Sunday, August 27th, returning on Wednesday, August 30th, 2023
Education:
Before the trip, students will spend 4 intensive rehearsals rehearsing solo numbers and a group number led by OFC staff members. Through song and dance, students will perform at a level of NYC professional caliber
With countless former OFC students and performers now performing professionally around the globe, it is essential to experience the hub of musical theatre: New York City. As many of our students will live in one day, the OFC team wants to introduce the Big Apple to our high school students in this unique trip.
Teressa Bala will be organizing and managing the trip. Teressa has organized over 8 trips for public school music programs, sport groups, church groups, and now OFC! She knows how to get the best bang for our buck and make sure we don't miss out on the best of what NYC has to offer. She will also be joining us on the trip.
20 to 50 students will be accepted into the program and will work with Courtney Schutt, Hunter Ekberg, and Caeli Carroll in the NYC Performers Bootcamp throughout August.
While on the trip, students will be separated into groups of 4 for rooming. Students are encouraged to request who they want in their groups; we will strive to accommodate all requests.
Student groups will be assigned an adult chaperone from the OFC team. We will not be accepting chaperone requests.
For budget and planning purposes, parents/families of students cannot travel as part of our program. However, if families are interested in coming, we encourage them to book similar travel plans.
On the trip there will be other performing arts educational experiences that students will have the option of participating in. Full details on these will be posted soon.
What Is Included:
Participation in NYC Performers Bootcamp held at OFCTC throughout August
Departing and returning transportation to and from NYC
Hotel room in NYC's Time Square (hotel with bunk beds)
Half-day masterclass with Kara Lindsay (and other Broadway performers), where rehearsed solos and group number are perfected
Group tickets to two performances, including a Broadway show
Visiting the Top of the Rock Observatory
Going on a Harbor Lights Cruise
Campus tour at NYU's Musical Theatre program
Group dining experience (budgeted separately)
A once-in-a-lifetime memory of experiencing NYC with friends and theatre family
Cost:
Upon signing up for auditions, a $50 audition fee will be charged (see details on this under "Auditions")
Tuition of $250 for NYC Performers Bootcamp
Trip cost of $750 for everything to and from NYC. This is an estimate based on 2022 numbers. We expect this number to not go much higher or much lower than this estimate, to be confirmed after auditions.
A payment plan will be put in place for all participants in the following schedule: $50 prior to auditions (applied to trip cost if cast), $250 for tuition upon acceptance after auditions, $235 per month following acceptance into the program until paid in full. Customized payment plans available upon request
Please note: OFC has acquired these discounted rates based on booking as a group. Rates noted above would be higher if booking as an individual
Trip cost above does not include meals and merchandise. Please send your student with cash or bank card to purchase food/souvenirs throughout the trip. A suggested amount to budget will be shared with families in advance of the trip
How To Sign Up and Auditions:
Auditions will be held on Sunday, March 5 from 3PM to 5PM
To audition, students must sign up to audition below
There is a $50 fee to sign up for auditions. If the student is cast in the program, the $50 fee will be applied to the trip cost. If the student auditions and is not cast in the program the $50 will be refunded. If the student cancels or does not show up the $50 will not be refunded and the student will not be cast in the program
For auditions, students should come prepared to dance and bring a 32-bar cut of any Broadway song. Auditioners should bring sheet music as a live accompanist will be provided.
OFC is seeking triple threat students with vocal, acting, and dance skills but who are also team players with positive energy
****Please note, Broadway masterclass teachers may change closer to the trip based on show/tour conflicts. Shows the group will be attending will be decided at that time too.
Refund/Transfer Policy:
Traveling incurs many costs, some that are refundable, and some that are not. By registering for OFC's NYC Experience, parent/guardian and student agree to the following program-specific refund policy: Initial payment from auditions and tuition for New York Bootcamp are non-refundable under any circumstances.
Monthly payments on the trip are refundable up until July 4, 2023. After July 4th, families may transfer monthly trip payments to another non-registered student or attendee, upon approval by OFC management up until August 20, 2023. However, finding a student or attendee to take the spot is not the responsibility of OFC management, and is solely the family's responsibility.
After August 20th, transfers (and refunds) are not possible for any reason, including, but not limited to, illness, family death, injury, etc.